The Hydrosense Water Detection System is designed to protect areas where water leakage could seriously damage electrical, communication and computer networks. When installed in vulnerable areas it continuously monitors for water leaks. Hydrosense can be installed in a wide range of applications including HVAC, sprinkler systems and water-cooled plant.
Detection
Hydrosense offers the flexibility of two methods of detection - probes and Hydrowire. Probes are either floor mounted with an adjustable height setting or fitted to a AC drip tray.
The flexible Hydrowire detection cable is available in 5m and 10m lengths and can continuously monitor large areas. A small amount of water coming into contact with Hydrowire is absorbed by capillary action and triggers the alarm. Using the Fire-Cryer®, a voice message can be broadcast avoiding confusion with other sounders on site.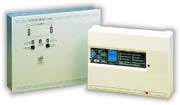 Features
1, 2, 4, 6, 8 or 12 zone options
Available in ABS or Metal enclosures
Fully monitored detection and alarm circuits
Easily installed, serviced and maintained
Dedicated Fire-Cryer® 'Water Leakage' messages available
Remote 'Water Alarm' lamp units available
Auxiliary alarm contacts
Hydrosense Floor Mounting Probe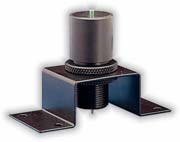 This adjustable height probe is simply screwed into the floor and adjusted to give the required detection level. An LED indicator on the top of the probe gives a clear indication of which probe has been activated and this may be extended to a remote lamp location (e.g. above false floor level) using a remote indicator. The probe is connected to the control panel wiring via a flexible cable which plugs into the probe. This plug connection is monitored by the line fault circuit of the control panel.

Hydrosense Drip Tray Mounting Probe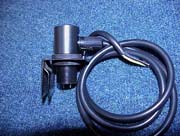 This probe has exactly the same facilities as the floor mounting probe but has a bracket for mounting onto the side of an air conditioning unit drip tray. The probe is then adjusted to give the required detection level and plugged into the detection circuit.

Hydrowire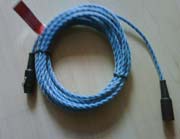 Available as standard in 5 and 10 metre lengths, Hydrowire is a flexible cable which will continuously monitor large areas. When even a small amount of water comes into contact with the Hydrowire it is absorbed by capillary action thereby triggering an alarm. After the source of the leak has been removed, Hydrowire will dry out in around 20 minutes for use again. Unplugging or cutting the Hydrowire will be immediately indicated on the control panel by the line fault indicator. Longer runs can be made by simply plugging lengths of Hydrowire together. Special lengths can be made to order. Each zone requires a connection box and an end of line din plug.
Fire-Cryer

The Fire-Cryer voice enhanced sounder has been developed to counteract the ever increasing problem of audible alarms being ignored. It eliminates any potential confusion by combining the normal sounder signal with a clear and unambiguous voice message. The Fire-Cryer can be both heard and understood. The Fire-Cryer requires no special wiring and can be retrofitted to existing installations meaning that in-situ wiring can be easily utilised. Fire-Cryer sounders are fully synchronised and have an exceptionally low current consumption allowing simple replacement of existing sounders and bells.