Water Leak Detection Cable

The Water Leak Detection Cable is designed specifically to detect water anywhere along its entire length, the cable is constructed with four individual signal cables (for use if required) and two stainless steel sensor wires all welded together to form a single cable. Whilst being a single mass, as you can see from the picture, the cable is very flexible and can be wiped clean to remove contaminants or water. The four signal cables form no part of the water detection circuit but if required can be used for applications such as monitoring cable continuity or sending the detection signal from the controller to both ends of the cable.
We can supply in lengths from 10 metres to cable drums of 450metres
Specification
| | |
| --- | --- |
| Overall diameter | 4.5mm |
| Each of the four Signal cables | 16/0.2mm (0.5mm) 3amp 110vac to IEC 189-3 |
| Sensor wires | Annelid 0.4mm diameter Stainless Steel |
| Sensor resistance | 7Ω per metre per sensor |
| Maximum continuous Length | 10 to 450 metres |
Water Detection Spot Probes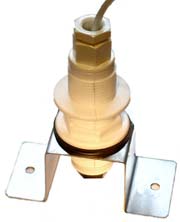 Designed to detect water in drip trays, plant rooms or areas were detection cable would become damaged. Probes can be supplied as simple low cost electrode type or the more expensive optical type. The difference between the two probes being that the optical probe works by losing light from within the plastic sensing bulb when water surrounds it. Also unlike the electrode type the optical probe has no external electrical conductors.
Oil Detection Probes
The sensor is designed to detect Fuel oil leaks and works by losing light from within a plastic bulb when oil surrounds it. This loss of light is compared to a set value which when exceeded triggers a detected signal. Two types are available one for walled bunded areas the second for bunded tanks (tank within a tank) were oil can leak between the inner and outer tanks.